Before the Accident
Ryan's Accident
After the Accident
SCI-Step Rehab
Links
Contact Us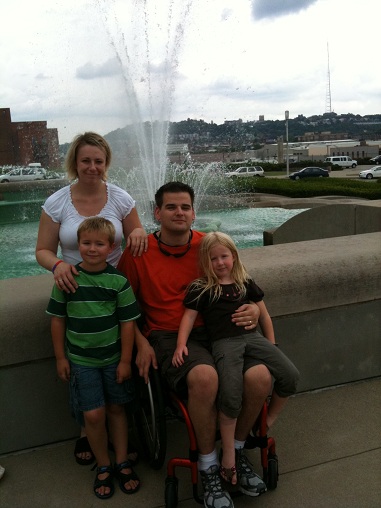 Ryan's Fight
-a brief summary-

Ryan was in a near-fatal motorcycle wreck on August 7, 2009 when an oncoming SUV failed to yield when turning into a driveway. He had just left to run some errands and didn't even make it a mile from our house. The kids and I watched the Flight For Life helicopter land and take off near the road behind our house, while at that time not knowing that it was Ryan who was being flown to the hospital. That night we were told that Ryan was not expected to survive. He ended up proving the doctors wrong.

Ryan put up the the fight of his life. He was in a coma for two weeks. Many units of blood, fluids, and medications were needed to keep his blood pressure stable. A ventilator breathed for him through the trach in his neck. He was fed through a tube inserted directly into his stomach. Three tubes were placed into his chest wall as treatment for his collapsed lung. He wore a cervical collar to avoid further damage to his neck which suffered a three part fracture. Other injuries that were treated non-operatively included his ankle fracture, clavicle and scapula fractures.

Multiple surgeries were performed to save his right leg from amputation. A metal plate was screwed into his right wrist. Ryan received many bronchoscopies where the doctor steered a camera and tube around inside of his lungs to suction out liquid and phlegm that endangered his life. He battled pneumonia and many other infections while doctors waited for his vitals to stabilize enough to perform surgery to repair his crushed spine. After two cancellations due to infections, the first attempt had to be aborted immediately after the spinal incision was made, otherwise he would have died because his body couldn't handle it at that time like they had hoped. Ryan was eventually able to get his spinal surgery where rods and screws were used to fuse his vertebrae back together.

Ryan's injuries were extensive, the most devastating of which being the spinal cord injury which left him completely paralyzed from the chest down. He has no sensation or movement below the nipple line and is not expected to regain anything because his spinal cord injury is classified as "complete." He also suffered a traumatic brain injury which has affected his short-term memory, attention, and initiation.

After being in the hospital and rehab hospital for a total of 11 weeks, with me leaving his side only to shower, and the kids living with grandparents, Ryan and I were ready to go home and for our family to be together once again. We anticipated challenges while adjusting to our new life with Ryan's disabilities, so my brother and his girlfriend moved in with us to help with the kids and household responsibilities during this period. Ryan ended up being hospitalized three times for UTI's within the first three months after his initial discharge. During the third hospitalization, the infection spread to his kidneys and he battled sepsis.

It has now been almost eight months since Ryan's accident and our family is just grateful to be together. Despite everything that's been thrown at us, Ryan maintains a determined and positive outlook on life and strives to make the most of what he still has. He is an amazing husband, father, and person.

-Jodi Clausing, April 2010


Click here to read an excellent summary article.